Logitech K270 Wireless Keyboard
ETA – OCTOBER
920-003736

K270 Wireless Keyboard
Reliable wireless—wherever you use your keyboard.
COMFORTABLE AND EFFICIENT
The full-sized keyboard includes a number pad and eight convenient shortcuts, making data entry and navigation a breeze – with easy access to the internet, e-mails, music and more. The sturdy tilt legs let you adjust the keyboard height to your liking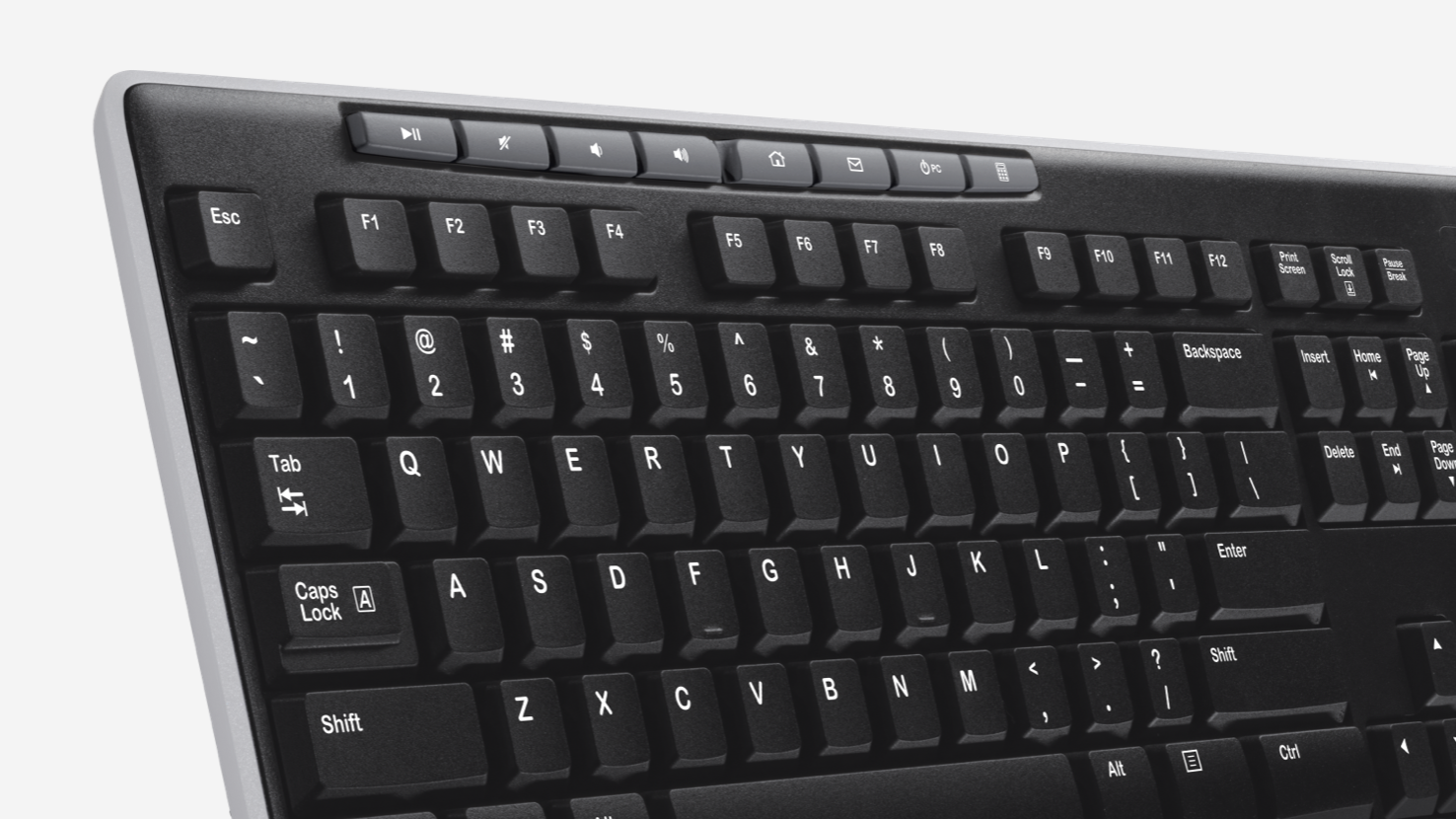 BUILT TO LAST
Keyboard K270 is built with the same high quality and reliability standards that have made Logitech the #1 global leader for mice and keyboards*. Up to 24 months of battery life** eliminates the hassle of frequent battery changes, with a handy on/off switch and power-saving technology to preserve battery life.
DESIGNED TO KEEP GOING
With an included 3-year warranty, the spill-proof* design and durable print characters keep you on-track for years to come despite any on-the-job mishaps
SIMPLY WIRELESS
Easy to connect, easy to use. Forget about drop-outs and delays thanks to a strong, reliable wireless connection with up to 10 m range*. The K270 comes with a Logitech Unifying USB receiver that lets you pair up to six compatible Logitech tools, so you can add your Logitech mouse to that same receiver. Fewer cords, less hassle, and one easy workflow.
TYPING FEEL YOU LOVE
This stable keyboard delivers a familiar typing feel, with deep-profile keys, and a springy, responsive bounce-back
Specifications:
Logitech Unifying protocol (2.4gHz) Wireless range: >33 ft / 10m wireless range
Computers That Support External Keyboards
Windows 7, 8, 10 or later
USB connection: Available USB port required
Reasons to buy from eGadgets South Africa:
-Free delivery on all purchases. 
-Safe and secure online shopping.
-Personalized, speedy and convenient customer service (Have your purchase delivered to you at the comfort of your home or office).
-Get a further 3.5% discount on your purchase when you pay by EFT checkout.
-Very competitive pricing on all products
-Earn e-points with every purchase, which can be used for discounts towards future purchases.
-We value our clients and believe in building long term relationships. 
-Our clients believe in our services.
Watch below what South African Comedian and MC Masood Boomgaard has to say about eGadgets South Africa
-Our clients enjoy their shopping experience to the extend some have blogged about their online shopping experience. Please read the blog below written by Oomleeu
https://oomleeu.wordpress.com/2021/03/15/the-good-of-to-good-to-be-true/