Shipped in 3 to 5 working days
The most advanced Galaxy Tab changes how you work and play
Meet Galaxy Tab S7 and S7+. Work and play on the ultra smooth 120Hz display, powered by our most powerful chipset. Get a PC-like experience with the snap of a keyboard, or use the ultra low latency S Pen to write like never before. An immersive tablet experience changing the way you work and play.
The most advanced display on a tablet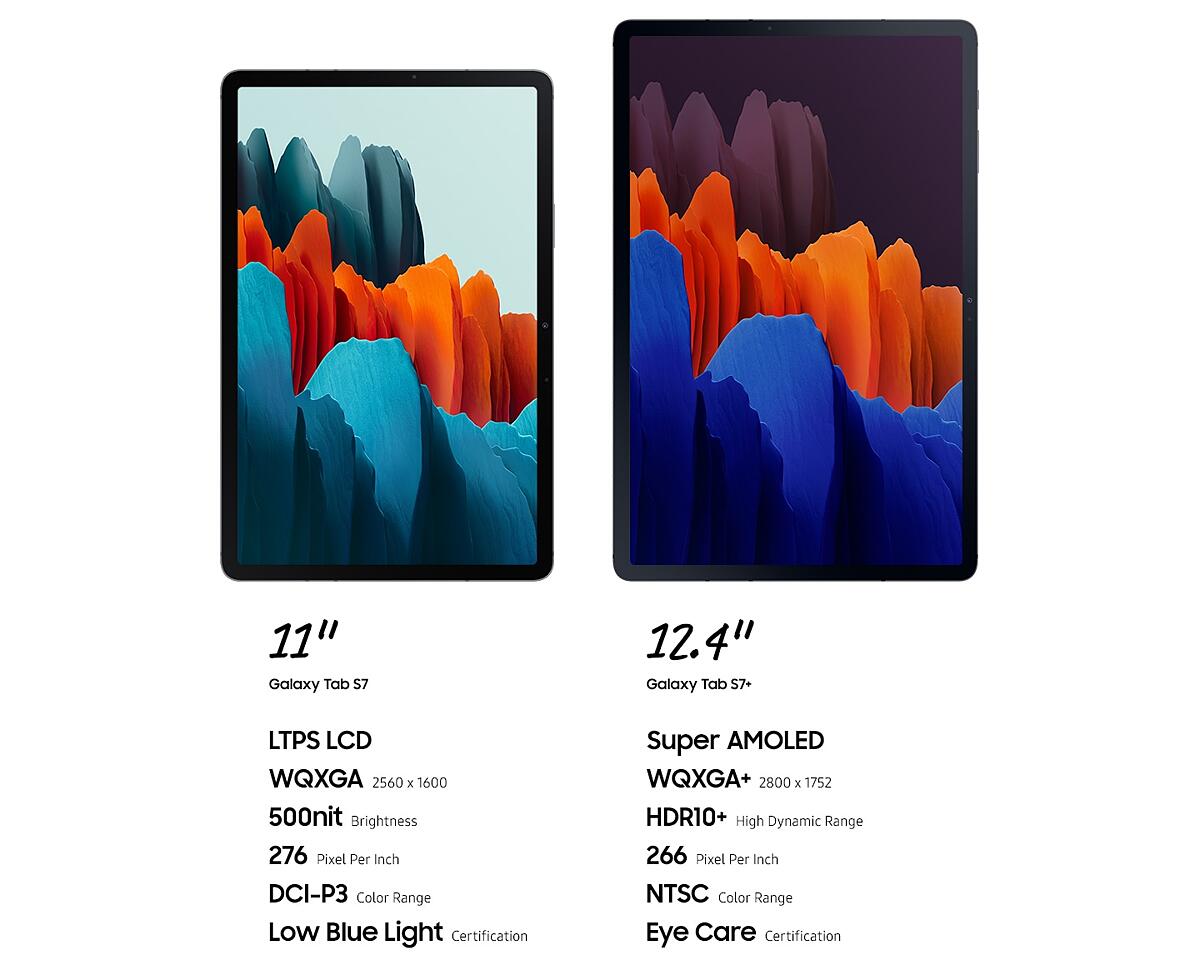 * Measured diagonally as a full rectangle without accounting for the rounded corners. Actual viewable area is less due to the rounded corners.
So smooth, you have to see it to believe it
At 120Hz, the responsive display instantly reacts to what's on your screen. It intelligently adjusts the refresh rate based on your content and helps you save battery as you watch and scroll.
Everything you love, now on a tablet
Your favorite shows, with a brand-new view
Like the cinema, you get a massive screen made crystal clear with the largest Super AMOLED display and Quad speaker sound by AKG and Dolby Atmos. Unlike the cinema, you can watch for 14 hours straight, because it's built to care for your eyes with the lowest blue light on a tablet display.
*Super AMOLED display only available on Galaxy Tab S7+ not applicable.
Get the very best of YouTube as a bonus
YouTube Premium and Galaxy Tab came together to make sure you can watch your favorite content on YouTube, uninterrupted. Enjoy ad-free, offline, and background play on YouTube and YouTube Music. Your first 4 months are on us with purchase of Galaxy Tab S7 and S7+.
*Availability of YouTube Premium may vary by country or region. Users must subscribe to a YouTube Premium account to enjoy all its benefits.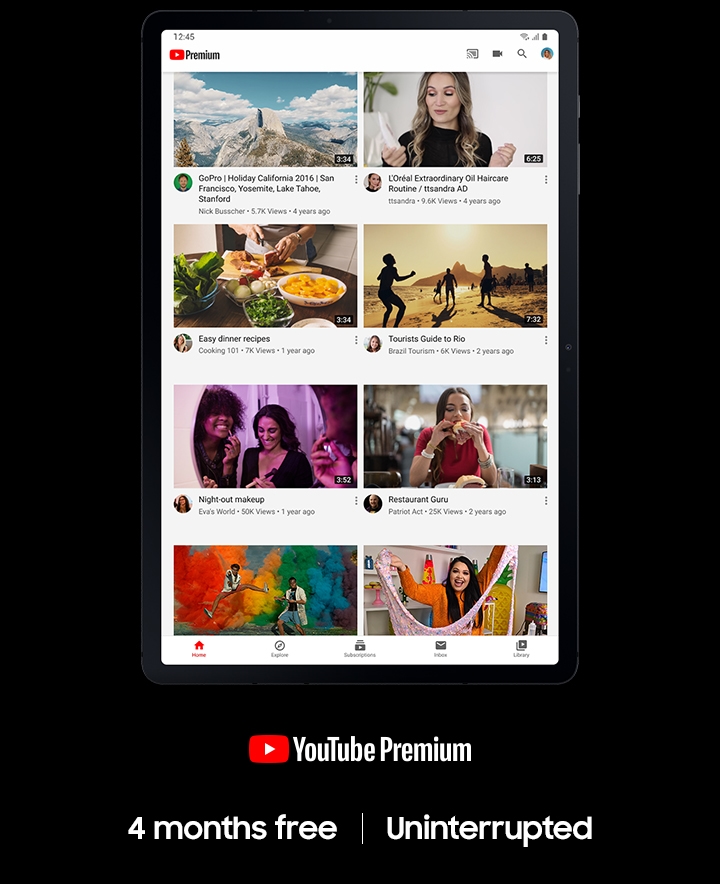 The fastest processor ever in Galaxy Tab
The Qualcomm Snapdragon 865 Plus Mobile Platform is a breakthrough in processing power. The intuitive and intelligent chipset is extremely fast and powerful, with minimal lag, so it can run intense games and multitask with ease. Harness its power whenever the mood strikes.
*Qualcomm Snapdragon is a product of Qualcomm Technologies, Inc. and/or its subsidiaries.
**Qualcomm and Snapdragon are trademarks of Qualcomm Incorporated, registered in the United States and other countries.
***Values calculated based on internal laboratory test results.
Play like never before
It's a new world of gaming. Bold colors on the massive display to immerse you in the action as you identify friend and foe. Together with Quad speaker sound as it puts you right in the middle of it all.
*Controller may be needed to play some games from Xbox Game Pass Ultimate, including Halo Master Chief Collection. Controller sold separately.
The power to do more, even faster
Intelligent battery to keep you going all day
Binge-watch your favourite shows from sunup to sundown. The biggest battery on a Galaxy Tab is built to keep you going all day. Even after all that, you don't have to power down. Power up and keep going with Fast Charging, the fastest tablet charger.
* 10,090mAh (typical) battery only available on Galaxy Tab S7+. Galaxy Tab S7 battery is 8,000mAh (typical). Typical value tested under third-party laboratory condition. Typical value is the estimated average value considering the deviation in battery capacity among the battery samples tested under IEC 61960 standard. Rated (minimum) capacity is 9,800mAh for Galaxy Tab S7+ and 7,760mAh for Galaxy Tab S7. Actual battery life may vary depending on network environment, usage patterns and other factors.
** 45W Fast Charger sold separately.
Meet the world's most powerful pen
The biggest leap in S Pen
Completely made over for a comfortable, solid grip, S Pen also has ultra low latency so there's little lag between what you think and do. It's S Pen's biggest leap in responsiveness, giving you a true writing experience. Then when you're done, magnetically attach it to the back of your Tab.
* S Pen's operable distance extends approximately 10 meters from the device in open space. Control range may vary depending on surroundings and other factors.
Ready for your masterpiece with Clip Studio Paint
Use S Pen together with Clip Studio Paint to bring your vision to life. Illustrate and create comics with the help of storyboarding, inking, and other tools. Preloaded on Galaxy Tab S7, the first Android version of the app is yours free for 6 months. Time to create art like the pros.
Go ahead, put it all in writing
ㅤ
Mark up PDFs
You can import PDF files and jot memos, sign documents, and make comments right on the PDF.
Export to Office apps
Samsung Notes can be shared in various formats. You can also export Samsung Notes to Microsoft Word or PowerPoint to share with others.
Samsung Notes Sync
Stay on the same page as you switch between your tablet, phone, and laptop through your Samsung account.
* Each device should be registered with a single Samsung Account.
Design like a professional
Start designing for free with thousands of pre-made templates or create your own using the intuitive editor. Design from marketing materials to social media posts all in the one place. Want to take your designs to the next level? Try Canva Pro and unlock beautiful content and time-saving tools.
* App availability may vary by country and region.
** Additional cost will be charged after the free trial period of Canva Pro.
Let your thoughts flow with Noteshelf
Noteshelf gives you more choices in how you take notes. Whether you prefer using S Pen or typing, it's fluid note-taking that feels natural as you learn or create. With the Noteshelf Club Exclusive, you can access hundreds of notebook covers and paper templates free, without a membership.
* App availability may vary by country and region.
** Feature supports 5 languages:English, Korean, Japanese, Traditional Chinese, and Simplified Chinese. Noteshelf is provided in English by default for language settings other than those listed above.
The most versatile keyboard for work and play
ㅤ
* Galaxy Tab S7 Book Cover Keyboards sold separately.
PC-like experience with a single tap
With the Book Cover Keyboard, getting things done is that much easier. Coming with a larger trackpad and intuitive function keys, the keyboard gives you a seamless experience, and when used together with DeX you get a PC-like experience with a single tap.
* Galaxy Tab S7 and S7+ Book Cover Keyboards sold separately.
** Function Keys supported on Galaxy Tab S7+ Book Cover Keyboard.
Slim, light, and ready to shoot
Incredibly thin and light, yet durable
Coming in Mystic Black, Mystic Silver, and Mystic Bronze hues, this design utilizes an advanced dual colour anodizing technique for enduring color that's robust, yet stylish. Its exquisite aluminum textures are created by polycrystalline diamonds, with a micro-sand blasted finish soft to the touch.
* Product colour availability may vary depending on country, region, and carrier.
** Galaxy Tab S7 measures at a thickness of 6.3mm and weight of 498g, 500g and 502g for data, Wi-Fi and 5G models, respectively.
A powerful experience enhanced with Galaxy favourites
Here's what you get with the most powerful tablet yet
* Some of the listed components, including cover and protective film, may not be available depending on the model you purchase or the country or region you live in. Excluding cover, white components only available with white devices and all other device colors will receive black components in box.
Reasons to buy from eGadgets South Africa:
-Free delivery on all purchases. 
-Safe and secure online shopping.
-Personalized, speedy and convenient customer service (Have your purchase delivered to you at the comfort of your home or office).
-Get a further 3.5% discount on your purchase when you pay by EFT checkout.
-Very competitive pricing on all products
-Earn e-points with every purchase, which can be used for discounts towards future purchases.
-We value our clients and believe in building long term relationships. 
-Our clients believe in our services.
Watch below what South African Comedian and MC Masood Boomgaard has to say about eGadgets South Africa
-Our clients enjoy their shopping experience to the extend some have blogged about their online shopping experience. Please read the blog below written by Oomleeu
https://oomleeu.wordpress.com/2021/03/15/the-good-of-to-good-to-be-true/